Exclusive Carolers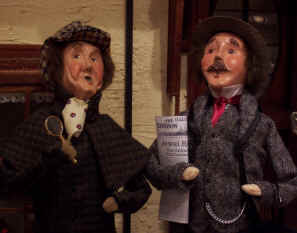 Extra! Extra!
Sherlock Holmes and Dr. John Watson have been designed by Joyce Byers exclusively for The Old Lamplighter!
Holmes is dressed in dark trousers, a tailored dark brown houndstooth check coat with cape, complimented by his cravat and deerstalker hat. As expected, he is holding his magnifying glass ready to solve his next mystery!
Dr. Watson arrived in a handsome three piece tweed suit, wearing a brown derby, silver watch chain and carrying a copy of the London Times which is reporting the recent blue carbuncle jewel robbery. He's prepared for the London weather with a black umbrella.
Visit The Old Lamplighter and see Sherlock Holmes and Dr. Watson. They make a dynamic pair!
$152.00/set of 2
Orders can be placed for Sherlock Holmes, Dr. Watson, other
Carolers and Accessories by calling The Old Lamplighter at
(302) 737-2402. Visa, Master Card and Discover accepted.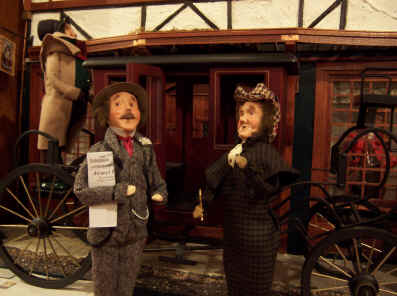 "A sovereign my good fellow if you get us to
Paddington Station in ten minutes."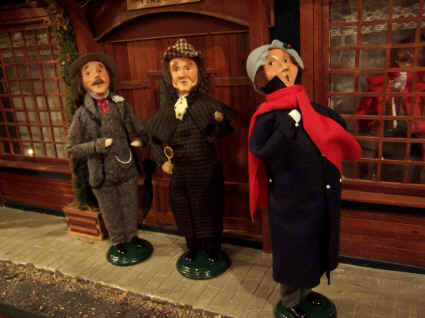 "Goodnight Mr. Sherlock Holmes."
A Scandal in Bohemia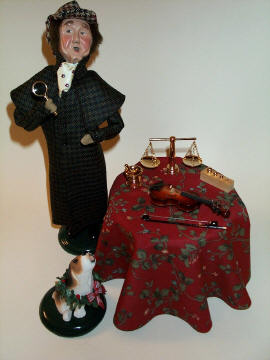 Also available is Sherlock's work
table at 221B Baker Street. The
accessories include a scale with
weights, a mortar & pestle and a
violin with bow and case.
Note: Table covering and
accessories may change without
notice. (Table Currently Unavailable)
---