Free Freight on Byers' Caroler orders over $50.00

Exclusive Carolers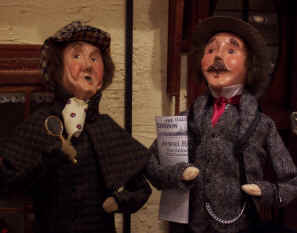 Extra! Extra!
Sherlock Holmes and Dr. John Watson have been designed by Joyce Byers exclusively for The Old Lamplighter!
Holmes is dressed in dark trousers, a tailored dark brown houndstooth check coat with cape, complimented by his cravat and deerstalker hat. As expected, he is holding his magnifying glass ready to solve his next mystery! $69.95
Dr. Watson arrived in a handsome three piece tweed suit, wearing a brown derby, silver watch chain and carrying a copy of the London Times which is reporting the recent blue carbuncle jewel robbery. He's prepared for the London weather with a black umbrella. $69.95
Visit The Old Lamplighter and see Sherlock Holmes and Dr. Watson. They make a dynamic pair!
Orders can be placed for Sherlock Holmes, Dr. Watson, other
Carolers and Accessories by calling The Old Lamplighter at
(302) 737-2402. Visa, Master Card and Discover accepted.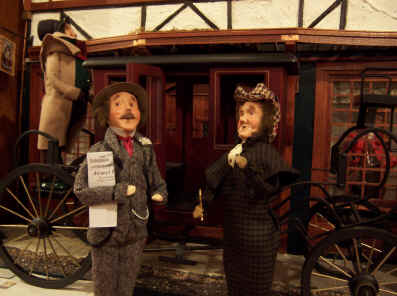 "A sovereign my good fellow if you get us to
Paddington Station in ten minutes."
"Goodnight Mr. Sherlock Holmes."
A Scandal in Bohemia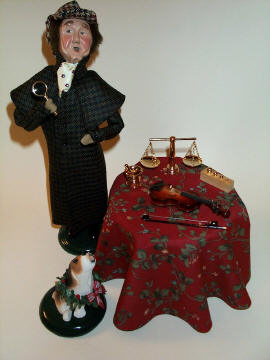 Also available is Sherlock's work
table at 221B Baker Street. The
accessories include a scale with
weights, a mortar & pestle and a
violin with bow and case.
Note: Table covering and
accessories may change without
notice. $49.95
Byers' Choice Basset Hound $21.00

---